---
If you or someone you know has experienced sexual assault, we are here 24/7/365.
24-Hour Crisis Line: (907) 276-7273
Toll-Free Crisis Line: (800) 478-8999
After Sexual Assault
After sexual assault, it's hard to know how to react. You may be physically hurt, emotionally drained, or unsure what to do next. You may be considering working with the criminal justice system, but are unsure of where to start. Learning more about what steps you can take following sexual violence can help ground you in a difficult time.

If you are a friend or family member of someone who has experienced sexual violence, it can take a toll on you. You will likely need some support, too.

Call us, we are here to help.


What are my options?
There are always options but they vary depending on your age and where the crime occurred.*

1. Report to Law Enforcement, receive a forensic exam and medical care
2. Report Anonymously, receive a forensic exam and medical care
3. Access medical care through the ER or a medical provider

Only you can decide what the best choice is for you, but STAR can help you understand your options along the way.

​*If you are under 18 or are considered a vulnerable adult, a report MUST be made regarding your safety. All of STAR's staff are mandated reporters, and if you provide any identifying information and disclose your age, a report will be made to the Office of Children's Services or Adult Protective Services.
What if I want to remain anonymous?
Within the Municipality of Anchorage, adults have the option to receive a medical/forensic exam by a Sexual Assault Nurse Examiner (SANE) without making a report to law enforcement. As an anonymous victim, your health- care needs will be addressed and any evidence collected will be preserved while you have time to think about whether you want to report to law enforcement. If you choose to report the crime to law enforcement at a later date, you will need to sign a consent form provided by the SANE. Once you open the report to law enforcement, the police will need to interview you, and may contact the suspect and witnesses to interview them.
Where can I go for medical support?
If you are an adult, you have the right to medical care without law enforcement notification. Seeking immediate assistance through an Emergency Room and asking to speak with an Advocate will ensure your health, privacy, and rights are protected.
How should I contact Law Enforcement?
If you are considering reporting to Law Enforcement, the best way to know which agency to call is to simply dial 911. You will be connected to the agency that has jurisdiction.
What is the Court Process like?
Click here to see our flow chart on what may happen after a crime is reported.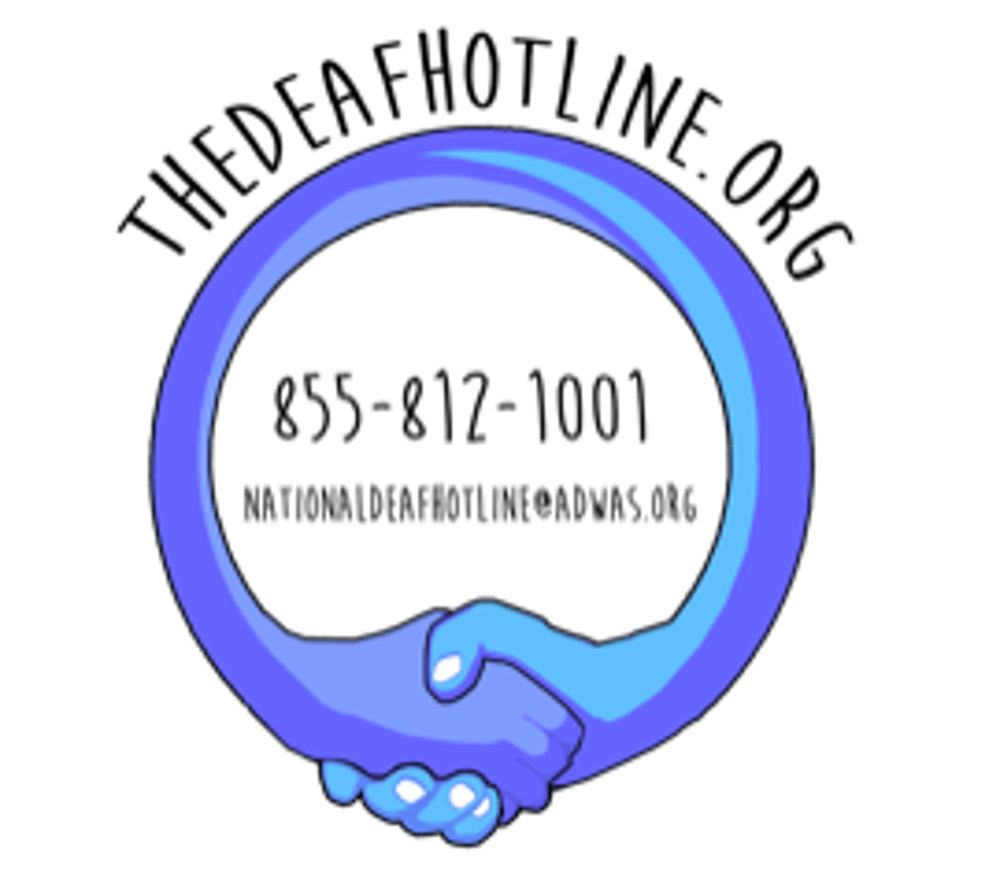 The National Deaf Hotline is available for the Deaf/Hard of Hearing Community and their loved ones.
The National Deaf Hotline strives to make sure there is access for survivors, friends, and family members to reach out anytime by providing services 24/7.

The services are to support survivors of domestic violence and/or sexual assault within the Deaf, Deaf/Blind, Deaf/Disabled, and Hard-of-Hearing community.

Click the button below to visit thedeafhotline.org website.